Premium Wordpress theme for your business
Take your business website to the next level with our enterprise-level, professionally designed templates. Our fully responsive full-page templates and 60+ page sections are specifically crafted for Full-site Editing, allowing you to create a custom website with ease.
Full-page templates
Need a custom landing or service page? Bergify PRO offers a diverse selection of pages for your business website, including stunning homepage designs and professional contact pages.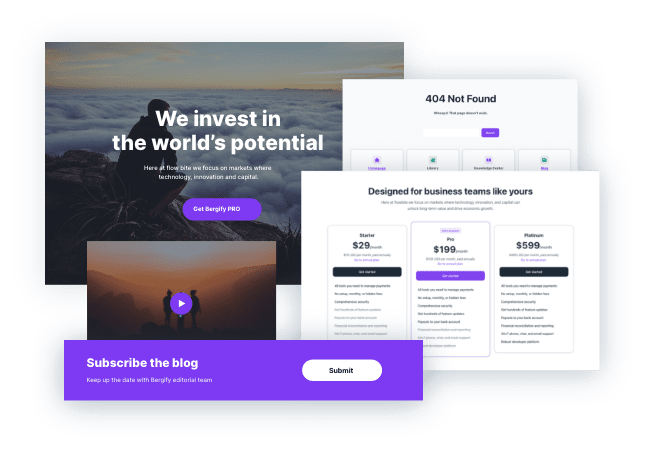 Pre-designed Page and Blog sections
Effortlessly create your custom webpage with our collection of ready-to-use sections with a unified design. Simply insert pre-designed sections like Hero, Pricing, FAQ, Team, Call-to-action, and more into your page, and watch your page come to life in a matter of minutes.
Custom block styles
The blocks within the Wordpress editor seamlessly align with the unified design of the Bergify PRO theme. From buttons to columns, lists, and other elements, every component maintains a consistent and visually cohesive aesthetic.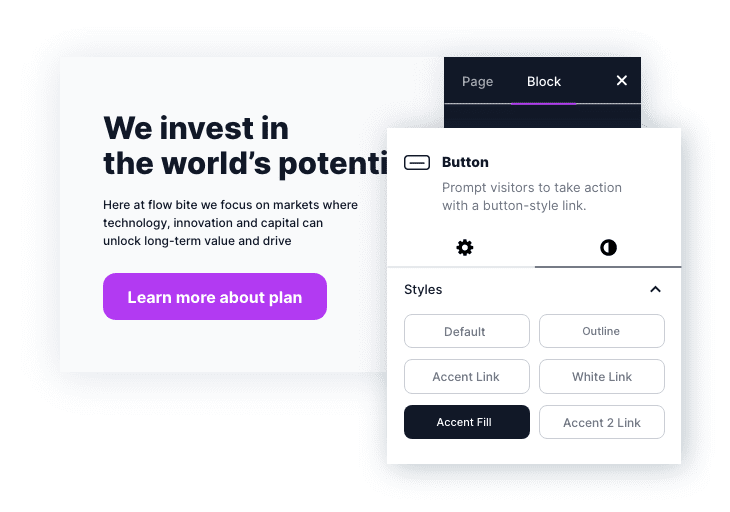 Light and Dark mode
The Bergify PRO theme excels in both Light and Dark modes, providing a versatile experience. Seamlessly toggle between the two modes for a tailored interface that enhances your content and aligns with your style.
Full-page templates
More than 20 full-page templates - patterns are a perfect start when you create a new web page.
Which version is right for you?
See how Bergify PRO compares to the free version.
Bergify
Free
Start creating websites with a free Wordpress block theme including full-page templates and pre-designed page sections.
Get started
Bergify PRO
$49
/ year
Bergify PRO offers a comprehensive website design solution. It also provides one year of dedicated support and updates.
Features
Bergify
Bergify PRO
Full-page templates (patterns)
10
20+
Page and Blog sections (patterns)
25
60+
Global styles (skins)
Light and Dark
Light and Dark
Support
Bergify
Bergify PRO
Bug reports & feature requests
Support and updates duration
1 year
Frequently asked questions
---
How does support work?
We're aware of the importance of well qualified support, that is why we decided that support will only be provided by the authors that actually worked on this project.
I want to build more than one project with Bergify. Is that allowed?
You can use Bergify for an unlimited amount of projects, whether it's a personal website or a website for a client. As long as you don't build a product that will directly compete with Bergify as a Wordpress template, it's fine.
Find out more information by reading the license.
What does "free updates" include?
The free updates that will be provided are based on the Wordpress development. It is also possible that we will provide extra updates outside of this scope as well.
What does the free version include?
The free version of Bergify includes basic full-page templates, a limited set of pre-designed page and blog sections (block patterns), custom block styles for some core blocks, and two global style variations (Light/Dark).
You can use this version for any purposes, because it is open-source under the MIT license.
Can I build/sell Wordpress themes using Bergify?
It is not allowed to use Bergify or parts of the project to build themes or templates.
Find out more information by reading the license.
Can I use Bergify for commercial purposes?
Absolutely! You can use this Wordpress theme to build any type of a website, whether it's a business, e-commerce or application website.
Find out more information by reading the license.
Can I get an invoice?
After opening the checkout process, you will be able to add all of your personal or company information that you want to be available on the invoice. After the purchase, you will get an email with the invoice.
If you forgot to complete the information, or you didn't get the invoice by email, feel free to send email and help you out with the invoice.
What is your refund policy?
If you are unhappy with your purchase, just send email within 30 days and we'll issue a full refund.
Is it allowed to use the design assets, such as the fonts, icons, and illustrations?
What you see is what you get. Which means that all icons, fonts, and illustrations can be used based on the licensing that we researched or purchased.
Where can I access my download files?
After you purchased one of the plans, you will get two emails: one for the invoice, and another one with the download files.
I have a company registered for VAT. Where can I add the VAT for the invoice?
After initializing the checkout process from Paddle, you will be able to see a text "Add VAT code". Click on that, and add the VAT code for your company.